Few names in the food products industry are as storied as that of "Ajinomoto." However, the company's current profitability has received a surprising boost from its semiconductor business. One of the company's unique products has become indispensable to the semiconductor industry, and it is now essential for companies like Intel in the U.S. and TSMC in Taiwan. What is the secret behind Ajinomoto's presence in the semiconductor sector, and who is in the "anti-Ajinomoto alliance" that is forming in response to the company's overwhelming strength? (Koyo Yamamoto, Diamond Staff Writer)
Originally published in Japanese on Oct. 12, 2022
'Ajinomoto Inside'
Ajinomoto has taken the semiconductor industry by storm with its runaway product, Ajinomoto Build-up Film (ABF). Demand for ABF is sky-high.
"ABF is in all of the latest PC models," said Genjin Mago, general manager of the electronic materials division at Ajinomoto Fine-Techno. "Intel Inside" is a well-known advertising slogan in the computer industry, but now that could be changed to "Ajinomoto Inside."
The prevalence of ABF in the semiconductor industry is clear from the industry jargon. Although "ABF" is the name of Ajinomoto's specific product, it is so popular that even similar products made by rival companies are referred to as "ABF."
Ajinomoto is expected to record a record profit in fiscal 2022, its fourth straight year of all-time highs. Although its image is that of a food products company, its performance has been bolstered by its non-food business, led by ABF.
The company's functional materials segment, which includes ABF, recorded 60.5 billion yen ($408.6 million at current exchange rates) in sales in fiscal 2021, and it earned profits of 28.9 billion yen. Its profit ratio is an astounding 47.8%, much higher than the company average of 10.5%.
ABF is thought to account for about 70% of the functional materials segment's sales, making it one of the mainstays of Ajinomoto's business.
But ABF's incredible growth means trouble for industry giants like TSMC, Intel, and Samsung Electronics. Ajinomoto's dominance through ABF means that it has the potential to shake the foundations of the semiconductor industry.
That is why although ABF is essential — or rather precisely because it is so essential — for companies like TSMC and Intel, an "anti-Ajinomoto alliance" is starting to form in response to the company's overwhelming position.
Industry standard
ABF is a unique insulation film used in the package substrates for semiconductors. It was developed in 1999 based on Ajinomoto's amino-acid processing technology.
Semiconductors, such as those in a computer's central processing unit (CPU), are silicon chips placed on a substructure called a package substrate. The package substrate, rather than the silicon chip itself, is connected to the motherboard.
To connect the circuits of a CPU and the exterior electronic components, the circuits of the substructure must be extremely precise. Previously, package substrates were sprayed with a special ink that acted as an insulator.
However, the unevenness of the ink resulted in a lower yield ratio. Moreover, the process degraded work environments because of the need to vaporize the solvents.
ABF solved these issues by switching "from painting to pasting." Manufacturers could make the electronic circuits on the substructure more precisely by adding on layers of ABF. ABF now holds a virtual monopoly in the market of interlayer insulators for semiconductor packages, with a share of about 95%. It has become the de facto industry standard.
Ajinomoto does not trade with semiconductor makers directly. Instead, it sells ABF to the manufacturers of package substrates.
"We definitely want to deal with ABF, but it's totally beyond our reach," said an executive at a general trading company that handles semiconductors. "A firm supply chain is already established, and there's no way for us to break in."
Japanese manufacturers are the top companies in the market for package substrates. According to Mitsubishi UFJ Morgan Stanley Securities, Japanese companies held the top two positions in global market share (in terms of sales) of package substrates in 2020, with IBIDEN accounting for 28% and Shinko Electric Industries holding 17%.
Semiconductor manufacturers like TSMC and Intel purchase package substrates to complete their semiconductor chips, which they then sell to computer makers. Package substrates cannot be made without Ajinomoto's ABF, meaning TSMC and Intel, in turn, cannot make semiconductors without it.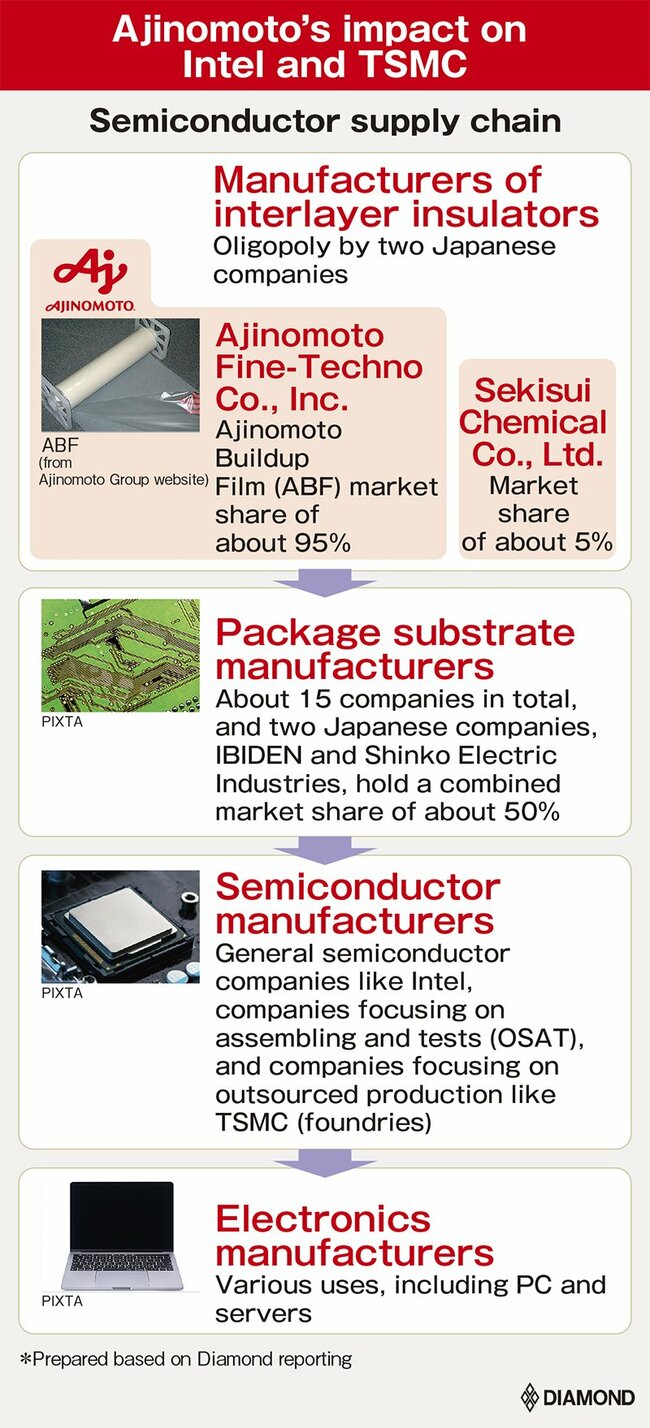 These semiconductor giants try to avoid single-source procurement because it poses a risk to their ability to provide a stable supply of products. Although Sekisui Chemical entered the market for interlayer insulators in 2014, capitalizing on its resin processing technology, its market share remains at about 5%. The market remains the exclusive territory of Ajinomoto.
Industry backlash
One reason Ajinomoto reigns supreme is its technique for retaining clients, which the company refers to as the "high-speed development cycle."
Ajinomoto moves forward with the development of next-generation insulation film while working with both package substrate manufacturers and semiconductor makers. Manufacturers send their feedback on Ajinomoto's next-generation prototypes, and the company quickly makes improvements based on these ideas.
With the adaptability of this high-speed development cycle, ABF is the go-to interlayer insulator for any new semiconductor product, creating an entry barrier for other companies that want to tap into the market for the latest semiconductor products.
In addition, Ajinomoto has locally incorporated companies in Silicon Valley, Shanghai and Taiwan that it uses to collect on-the-ground information to keep up with the latest trends. It is thought that the company also regularly exchanges information with TSMC in Taiwan.
With its overwhelming market share and technological strength that forces cooperation from even the top manufacturers, Ajinomoto has carved out a niche in the semiconductor industry. However, the industry will not allow Ajinomoto, a relative newcomer, to remain unchallenged. An "anti-Ajinomoto alliance" is starting to take shape.
"Currently, we purchase insulation films at Ajinomoto's asking price," said an executive at a semiconductor business. "But the industry wants price cuts. They're becoming more necessary by the day."
For semiconductor manufacturers, who zealously cut costs by purchasing from several suppliers and forcing them to compete through lower prices, the idea of allowing Ajinomoto to continue enjoying its ABF profitability ratio of nearly 50% is unacceptable.
They are thus now turning to Sekisui Chemical, virtually the only competitor to Ajinomoto. Although Sekisui has only a roughly 5% share of the interlayer insulator market, it holds a higher share in some products for data centers that will likely see greater demand in the future. Thanks to this, Sekisui is expected to hold a market share between 20% to 30% after 2026.
In the field of semiconductor manufacturing devices, the leading players repeatedly supported the second and third-largest suppliers through preferential purchases, preventing the top supplier from becoming too powerful.
On top of this, Chinese companies are said to be becoming more active in interlayer insulators amid the geopolitical confrontation between Washington and Beijing.
Currently, those purchasing ABF and other interlayer insulation films are focused on a stable supply and quality rather than price.
As long as Ajinomoto meets these demands, its position seems secure. However, if rivals like Sekisui or the Chinese companies become competitive in these areas, a price war that would deny Ajinomoto easy profits seems likely.
Ajinomoto is aware of the movements against it and is working to counteract them. In 2022, the company completed a new research and development building that has a space for joint research with clients. The goal is to reinforce the company's high-speed development system.
According to an estimate by Diamond, Ajinomoto aims to achieve sales of about 70 billion yen and profits of about 30 billion yen for its ABF-related business by around 2030. That would be about 1.5 times greater than the current figures.
With demand for semiconductors set to continue growing, Ajinomoto's top management seems to be reasonably optimistic about the company's ABF business.
However, if the semiconductor industry forms a full-fledged anti-Ajinomoto alliance and gets serious about unseating Ajinomoto as the preeminent market player, its future business may turn sour.
(Originally written in Japanese by Koyo Yamamoto, translated into English by Erklaren Inc., and edited by Connor Cislo)