I have decided to close the Mistletoe office in Aoyama, Tokyo, as of the last day of July of this year.
 This does not mean that we had run into trouble in operating the office, nor that we had found a new office location. I have simply decided that I would like to get rid of the physical office space itself.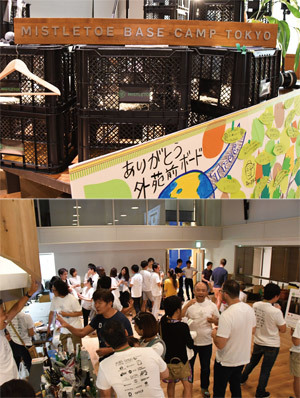 On July 23rd, 2018, members gathered for the closing event at the office and made announcements of becoming entrepreneurs or going independent, as they had their last meet-up together.
 A closing event was held at the office on July 23rd. I told all of the staff and other participants there that this was a "take-off" for us. What do you think I meant by that?
 I have launched many businesses as a serial entrepreneur since I established my first company in 1996. All of a sudden, I find myself having been a manager for over 22 years. I went through a good deal of trial and error in trying to create the ideal office during that time.
 I have managed companies that went on to become large businesses as well as companies that remained small and closed down before I knew it.
 During that process, I have rented an entire building to set up an office, and I have also operated out of a single room in an apartment. I have created both coworking offices and spaces that were based solely on my personal preferences. Looking back, I really have created a surprisingly large variety of offices.
Why is the Office
No Longer Necessary?
 About three years ago, my core business, Mistletoe, rented a building in Gaienmae and set up an approximately 1320㎡ office space. This was not just a simple office.
 Making use of the knowledge and experience that I had gained throughout the years, I decided to call it Mistletoe Base Camp Tokyo and described it as "a base camp for world-changing innovators before their final climb to the summit".
 I created a free meet-up space for all sorts of communities that shared the same will to solve world problems and to make an impact on society. I also prepared an office space for running large-scale events. The staff of the entrepreneur festival Slush Tokyo, for example, was one group who made use of this space.
 We also had a room dedicated to startups, a shared meeting room, and the ability for people to change desks freely. It was not just us; there were many other startup businesses and entrepreneurs working in the office.
 I was very particular about the design of the office itself, so I had a lot of emotional attachment to it. There is a reason behind my decision to get rid of everything—even this office.
 I wrote before (in #18) about how important it is to travel between the field and one's home base in order to solve problems. I felt that the office was neither, and that it existed as a sort of in-between space, lacking in efficacy.
 In particular, because I have been trying to stay active in the various fields and home bases around the world for the past one to two years, my time spent in the office in Japan has rapidly decreased.
 I can attend meetings and respond to interviews through an electronic conference system, and communication with my company staff can be done via online communication tools. In this day and age, where most of our work can be done online, I felt that there was no longer the need for a physical office.
 Due to this focus on the fields and home bases, many of my staff had already been going from places to places around the world. As a result, there were actually more opportunities for them to work outside of the office.
 This is just one of the reasons which led me to think that not having an office might actually allow everyone to think more critically and creatively. If we wanted to meet up in person, we could simply hold an event or dinner meeting to that end. It was only a matter of time before I decide to get rid of the office.
Rethinking Employment Relationship
Urging Independence
 However, it took a reasonable amount of time to actually get rid of our physical office. The reason is that simply getting rid of the office would not allow me to change the way my staff works and their relations with those around them. I believed that if their work style didn't change—and, to take things one step further, their individual lifestyles didn't change—there would be no point.
 In other words, the closing of our office and the process of Mistletoe itself becoming an autonomous assembly of independent individuals had to move forward at the same time.
 As I mentioned before, I had long been concerned that regular employment contracts might be tying individuals down to the company. With that in mind, I converted our employment system to use outsourcing contracts and worked to regain equal standing in employee relations during this time.
 At the end of 2017, I explained all of this to my staff and had each and every one of them think about their lives and future. I, too, thought alongside them. This process is still ongoing, even now.
 I was glad to see that some of my staff from human resources, accounting, public relations, etc. took this opportunity to become entrepreneurs themselves. All I did was simply give them a little push to get started.
 As we move forward, all of our staff will continue to gain strength and scatter across the world. This is why I did not simply speak of "terminating" the physical office but rather called it our "take-off." I did so with the hope that everyone would leave the nest that is this office space and depart on their own journeys.
 I would be lying if I said I didn't feel lonely. However, I will be able to see the members of this community in all sorts of places in the future. When I think of everyone's developments and possibilities, my feeling of excitement is far stronger than that of loneliness.
 By getting rid of the physical workplace that is the office, it will change the way we think about forms of employment. I go this far to implement change because I am certain that corporate organizations will go on to change in a big way in the future.
Photo by Takeshi Kojima